Two decades ago, one of my friends was arrested for having marijuana in plain sight during a routine traffic stop. He got a slap on the wrist for it, and nothing went on his record. He felt his privilege as a white college student insulated him from the harsher penalties the judge could have given him, and it troubled him that if he were black or brown, he might not have been given similar treatment.
As I'm reading The New Jim Crow: Mass Incarceration in the Age of Colorblindness by Michelle Alexander, I see how my friend's lingering doubts are disturbingly real. Hinging on that one incident, his life could have turned out completely differently if the judge had been facing a black visage instead of a white one.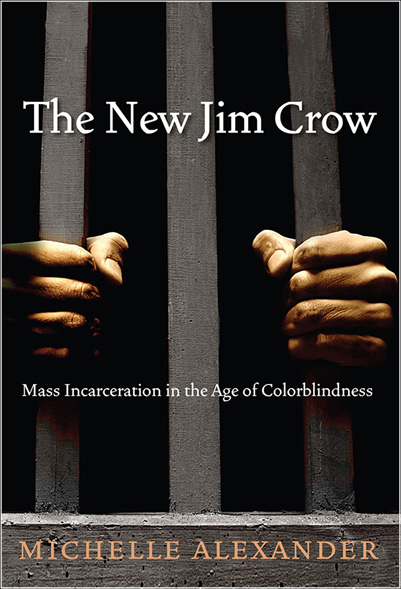 Alexander lays out a compelling and uncomfortable case that we have created a powerful new caste system, under the guise of the War on Drugs, and most people aren't aware of its existence. Indeed, its invisibility, or "colorblindness", is what makes it so powerful. For nearly thirty years, the War on Drugs has garnered political support from conservatives and liberals alike. While it hasn't reduced drug use, Alexander's book is a call to do some deep soul-searching about what the War on Drugs has effectively done: remove a substantial portion of black men from society.
As she states it:
It is simply taken for granted that, in cities like Baltimore and Chicago, the vast majority of young black men are currently under the control of the criminal justice system or branded criminals for life. This extraordinary circumstance–unheard of in the rest of the world–is treated here in America as a basic fact of life, as normal as separate water fountains were just a half century ago.
Ouch. I feel stupid now, like, why did it take me until now to see something that obvious in full relief? Democrats and Republicans have been complicit, consciously or unconsciously, of creating and maintaining the new system. The damage is unbelievable, the waste of human potential enormous. It's a tragedy on the individual level, a wrecking-ball force on communities, and a drain on society. It's time for redemption, and definitely not the southern-style "Redemption" following Reconstruction.
New Jim Crow, it's time to go. Dismantle the War on Drugs.